Play WORLD OF LEADERS the new social MMO game from Eversim!



The Race for the White House simulation game launched today for PC, Mac; first trailer released
Players can become a 2012 presidential candidate themselves or play as one of the real-world candidates. Stay plugged in with continuous opinion polls and vote projection updates during the campaign.

&nbsp July 23, 2012 The Whashington Post, review from Monica Hesse Read more


&nbsp July 21, 2012 Review on Punditpress political blog from Mat Avitabile: 8/10 Read more



&nbsp July 11, 2012 – Millions of voters are deciding which candidate they will vote for on November 6th, and that decision process became a lot more exciting with simulation game The Race for the White House released today on PC and Mac. iPad, iPhone, and Android versions will be announced shortly. Get a new vision and understanding of the high stakes involved in the 2012 presidential election and how you may be able to control your own political destiny. You might end up living in the White House next year!

The first trailer for The Race for the White House can be viewed here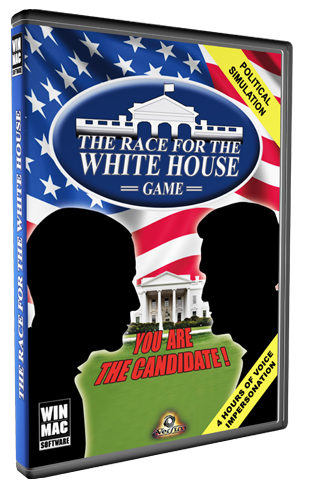 Democrats, Independents, and Republicans with political ideologies ranging from Tea Partiers to Progressives, and interest levels ranging from political neophytes to seasoned political junkies, can have fun participating in a hotly contested election. "Candidate" players can enter the 2012 presidential race as an actual contender for the White House, or you can join the political fray as real world candidates "Jack Ohama" or "Mick Ronney" with animated 3D faces and hours of voiceovers by impersonators.
You will need to act and react – swiftly and decisively – just like in the real 2012 campaign Players have total control over their candidacy so you need to deal with lots of face-paced decisions. Candidates establish headquarters, travel the country, set up rallies, deal with super PACs, manage the campaign budget, make TV appearances in debates, and build TV and ad campaigns. Candidates also get to make nearly two hundred campaign promises, but be careful – those promises will impact the deficit! And do not forget to satisfy lobbies, religious communities, or ethnic groups as their votes will be decisive.
Yes, there's the fun, slimy stuff, too… Dirty tricks have long been a staple of national politics, so The Race for the White House includes spreading scandalous rumors, arranging to have competitors' campaign cash stolen, giving kickbacks to attract supporters, and sabotaging opponents' meetings…but be careful because these slimy tactics might backfire and cost you the election.
Several game modes are offered -"Realistic" mode: Run for office with actual opinion polls and vote projections. This mode will benefit from constant updates of the real figures numbers during the campaign. -"Equal Start" mode: All candidates start with equal poll results. -"On-line" game mode against other human players, with internet rankings. Players can digitally download the game at the official web site www.theraceforthewhitehouse.com or purchase a boxed copy at retailers very soon. Download and retail versions are $19.95 each.
About Eversim
Eversim has specialized in developing simulation and strategy games since 2004. The Company released Commander in Chief
(www.commander-in-chief.net ) and Rulers of Nations
( www.rulers-of-nations.com ) Eversim also works in the context of serious gaming and crisis simulation with several agencies, including NATO.
Eversim website: www.eversim.com


For media-only inquiries, contact Doug Mealy, Online Marketing and Public Relations, at dmealy@om-pr.com
For business inquiries, contact us at business@eversim.com